I have been on the hunt for a new purse for awhile. I had a few criteria that needed to be met.
It needed to be BIG, have a shoulder strap and be cute!
I haven't carried a diaper bag in years. So my purse does double duty as both a purse and a diaper bag.
I have officially found the PERFECT bag! Have y'all heard of Nena and Co? The bags are made from textiles that women in Guatemala have made. What I love is that Alejandra Hynek (the owner of Nena and Co.) is using Nena and Co. to help the people of Guatemala. Whether it be providing purified water to a family or helping to give a child an education.
You can read more about the story behind Nena and Co. HERE.
And you can find their bags and other products HERE.
You can also find them on Instagram at @nenaandco
The bag is BEYOND well made. One of the things I loved most about this bag is that it has two pockets on the outside as well as one on the inside. One of the pockets on the outside is a hidden pocket. Which makes it handy to quick slip my phone and keys in when I'm out and about. There is nothing worse than a big bag with zero pockets. Because then everything gets lost on the inside and you're constantly digging around looking for something!
I can't speak highly enough of not only the bag itself but of the company. I love supporting and encouraging companies who are giving back. Nena and Co. is one of those top notch small businesses!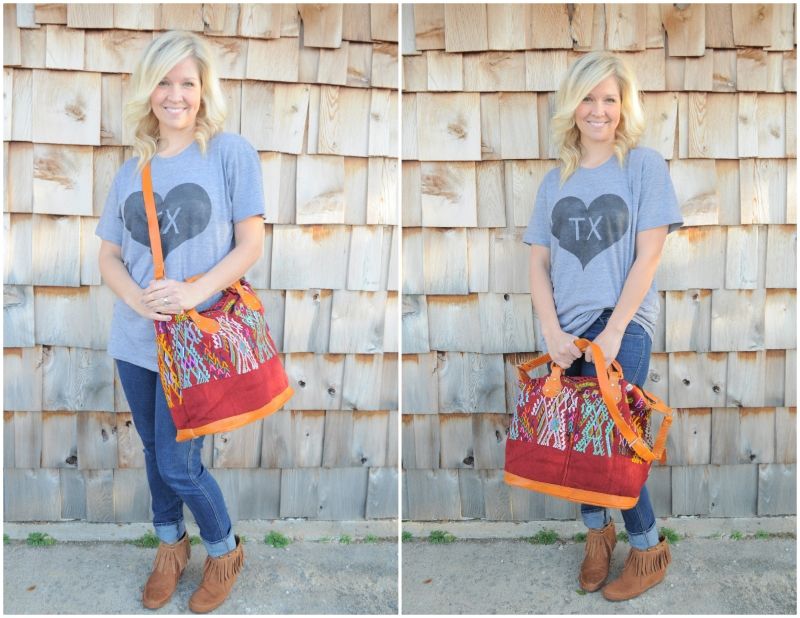 +my t-shirt is from Shopriffraff.com++