A few months ago we really cracked down on our budget. We've been following good old Dave Ramsey's rule of "every penny has a name". Which meant that going out to eat on a whim got the kabosh put on it. Darn that Dave Ramsey. 😉
Tonight was one of those nights I stood looking in the cupboard and then the fridge a few times. Grabbing some take out sounded so appealing and easy. I had made the mistake of not preparing something ahead. So here it was 6pm and I was just now starting dinner. As I was standing by the cupboard I thought "Pancakes will be perfect!" And then I realized I was out of pancake mix.
So instead I ended up making some home made Cinnamon Pancakes and let me tell you… they were DELICIOUS! It was kind of a thrown together recipe which is why I wanted to write it down before I forgot. I love that they were made up of ingredients I almost always have on hand. Which means an easy dinner any time I'm in a bind.
I had some turkey sausage links that I served with the pancakes. The pancakes were a little bit on the thinner side which made them perfect to wrap around a piece of sausage and dip into syrup!
Enjoy!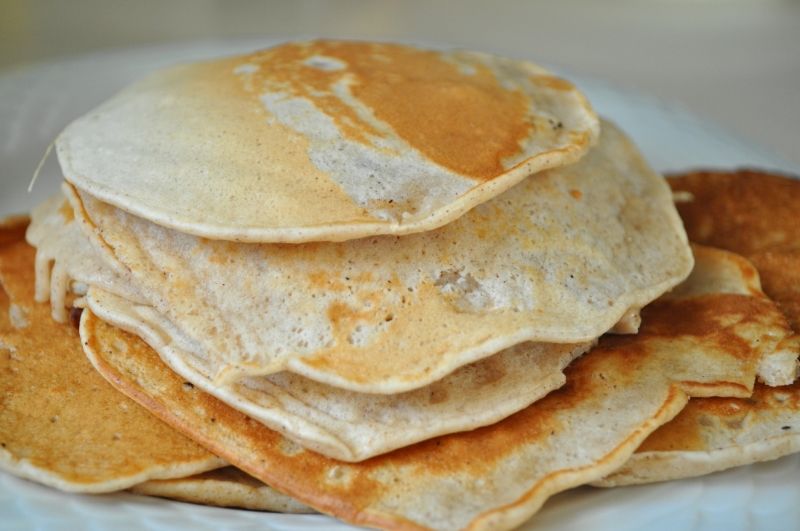 Cinnamon Pancakes
3 Cups All-Purpose Flour
5 Tablespoons Sugar
3 scant Tablespoons Baking Powder
2 teaspoons salt
3 Cups Milk
3 Eggs
2 Tablespoons Cinnamon (more or less to preference)
1 Tablespoon vanilla extract
Mix together until all the dry ingredients are incorporated.
Pour onto a well-greased griddle.
And voila!
Serve with butter and hot maple syrup!