Well…the time has come. Time to clean up my eating. It had really spiraled out of control. To the point where I couldn't remember how many days it had been since I had eaten a fruit or vegetable. And it was starting to filter into how I fed my family as well. Which.. is no good. My responsibility as a wife and a mother is to provide my family with healthy meals. And obviously I was majorly slacking on the job (think…. toaster strudels, Uncrustables and frozen lasagna for dinner. With no trace of a fruit or veggie).
We're two weeks into changing our eating habits. And honestly, it has been such a refreshing change. I had initially started doing the 30 Day Challenge (clean eating for 30 days straight) with my friend Amanda. And, on day 3 or 4 I ended up flaking and eating something that wasn't on the list.
And that's kind of when the light bulb went off for me. I don't want to do a crash diet. Something that I'll end in 30 days and go back to my old ways. I want to change my eating for a life time. I want my kids to see my fueling my body with good food. I want to be fueling THEIR bodies with good food. And I also want them to see that it's okay to have treats in moderation. Just not ALL. THE. TIME. Like I was doing 😉
I have discovered that my grocery shopping has become so much easier. I have heard it before and I'm sure that you have too, but I just shop the outer aisles of the grocery store. Fresh produce, meats and dairy. Most of our meals the past two week shave consisted of a meat and a veggie. I thought I would show you a few of my favorite meals that I have been eating.
Top Left: Sauteed Sweet Potato Hash with Chicken Sausage, green peppers and onions. Served with a salad that was topped with fresh salsa
Top Right: This is one of my favorite lunches. A bed of lettuce topped with tuna, cherry tomatoes and mustard as my dressing.
Bottom Left: Salad topped with hard boiled egg, cherry tomatoes, bacon, avocado and a light drizzle of balsamic vinegar.
Bottom Right: A close up of how I made the Sweet Potato Hash. I just cut up sweet potatoes. Sauteed them in coconut oil with onions and garlic. Added in some green peppers and some chicken sausage I found at Trader Joes. Cooked on low until the chicken sausage was brown and the potatoes were soft. SO. GOOD!!!

A few of my favorite breakfasts…
Top Left: Bacon (I buy the pre-cooked kind to save time), scrambled eggs and fresh blueberries.
Top Right: Egg Scramble topped with fresh salsa. My favorite kind of egg scramble is to put a little olive oil in a pan and saute diced onions, garlic and tomatoes. Then I crack my eggs on top of that…give it a stir until my eggs are cooked. And top with fresh salsa! I love Chili's salsa directly from the restaurant! I'll buy a few containers of it and they'll last me a week! Perfect for topping your eggs or salads throughout the week.
Bottom Left: Bacon with a salad of Avacados and Tomatoes drizzled with balsamic vinegar.
Bottom Right: Turkey Sausage with fruit salad.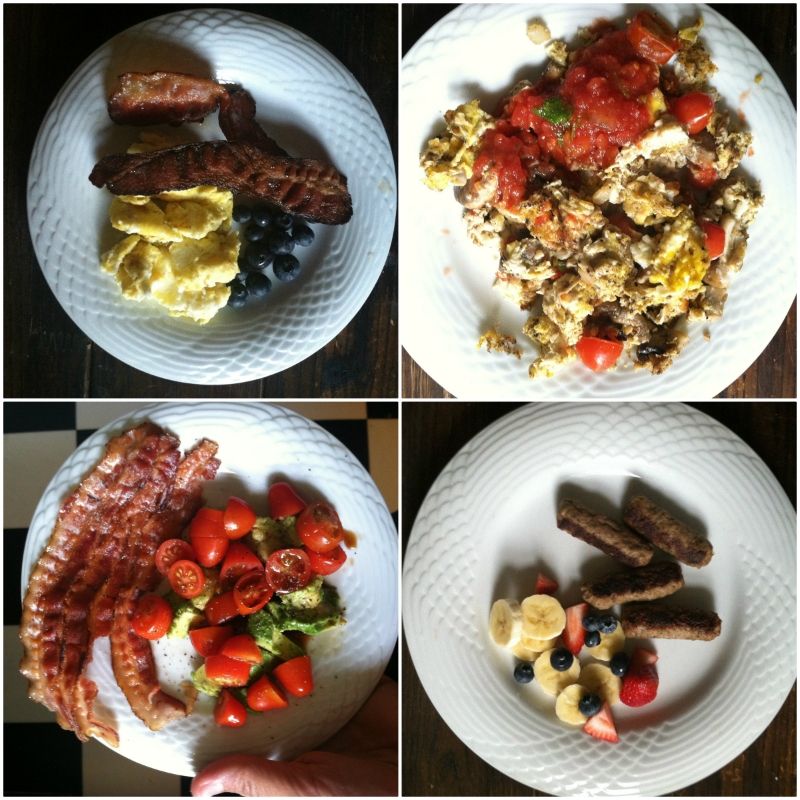 Here are a few of my favorite food items that have made eating healthier a little easier. I don't have a lot of time to be spent in the kitchen. And honestly I don't WANT to be cooped up in the kitchen trying to eat healthy!
Top Left: Jimmy Dean Fully Cooked Turkey Sausage Links. I LOVE these! I'm not a big meat eater but these are seriously so yummy! A lot of the time I'll cook the kids something else for breakfast (yogurt, blueberry muffins, bagels and cream cheese). I don't typically sit down and eat with them because I'm busy cutting their food, serving them more, wiping up spills, etc. So while they're eating breakfast I'll throw a few of the turkey sausage links in my skillet. Then when they've finished eating my breakfast will be ready! I prefer mine on the crispier side so the timing is perfect 🙂
Top Right: I found this yummy mix at Walmart last week when I was getting my oil changed. It's the perfect combination of sweet and salty! And it's crunchy and chewy. So I feel like it kind of satisfies every craving all in one!
Bottom Left: Sometimes you just need a tasty snack. And Larabars are IT for me! They come in a ton of delicious flavors. Peanut Butter Cookie is my favorite! If you've never heard of them, basically what they are is a bar that is made out of dates and another ingredient such as peanuts! They're all natural and my kids love them too!
Bottom Right: Going back to saving time… I found myself chopping a LOT of onions and garlic to put into my meals. Trader Joes (and I'm sure other stores do as well) has a TON of pre-chopped veggies. For me it is worth spending a little more to have it all pre-chopped. I love being able to toss a tablespoon of the chopped onions/garlic into my eggs in the morning. So yummy! I also love the pre-chopped broccoli as well as cauliflower! Such a time saver when it comes to making dinner! I think so often we equate eating healthy with it being time consuming. My goal is to make eating healthy EASY!
So there you have it! A few healthy eating changes going on over here! I would love to hear a few of your healthy dinner recipes that are easy!