I knew this week would be a bit hectic so I asked Ashley from Sugar Mama Bakeshop to guest post for me today! She's sharing a delish recipe for Peanut Butter Crispies!
Thanks Ashley 🙂
____________________________________________________________________________
Hey again, I'm Ashley! I'm a wife, a mama & a baker. I also blog over at
Sugar Mama Bakeshop
. I
guest posted
on The Vanilla Tulip awhile back and shared some tips for how to feed your family gluten free & vegan on a seriously tight budget.
(My husband and I before I chopped my hair waaay off 🙂
Today I'm super excited to be back and I have a recipe to share!
Peanut butter rice crispies are one of my all time favorites! But since they're packed with butter and marshmallows I can't ever have them anymore… So I created a new version that fits my diet AND I actually love them better! Plus they have actual nutritional value, not just sugar. That's always a nice benefit 🙂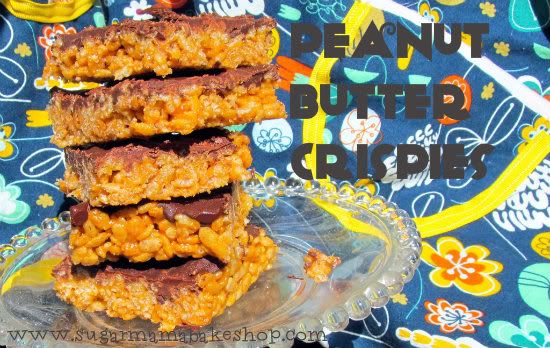 1/2 cup peanut butter
1/2 cup agave nectar
3 1/2 cups rice crispy cereal (gluten free)
1 cup melted chocolate chips
In a large glass bowl melt the peanut butter and agave in the microwave for about 1 minute.
Stir until smooth and then stir in the cereal.
Spray an 8×8 pan with cooking spray and spread mixture into pan.
Put into freezer for about 20 minutes to set before adding chocolate.
Melt chocolate for 1 minute in microwave and then stir.
Continue to melt the chocolate at 30 second intervals until smooth (I add 1 TB shortening to make it smoother).
Pour chocolate on top of crispy mixture and spread over the entire pan.
Put back in the freezer or fridge to set and then enjoy!
Just about as simple as it gets but dang, we love them!
I hope you do too 🙂
I have lots of other recipes, like my fave scones plus adventures with my baby girl, Lily, and lots of farmers market updates!
I would love to see you!