Pumpkin Bars with Cream Cheese Frosting
I'm one of those people that love pumpkin anything once September 1st starts. Luckily, my whole family loves pumpkin too so nobody complains at the weekly pumpkin treats that I make 😉
This recipe is one of my favorite go-to's! The pumpkin bars are moist and technically could be eaten for breakfast since they're kind of like a muffin? ha! And the cream cheese frosting is the perfect mix of buttery and sweet. If you're on the hunt for a good cream cheese frosting make sure you mark this one for future recipes!
Do you have any pumpkin recipes that you love? If so I would love to try them! Leave them in the comments or shoot me an email!
P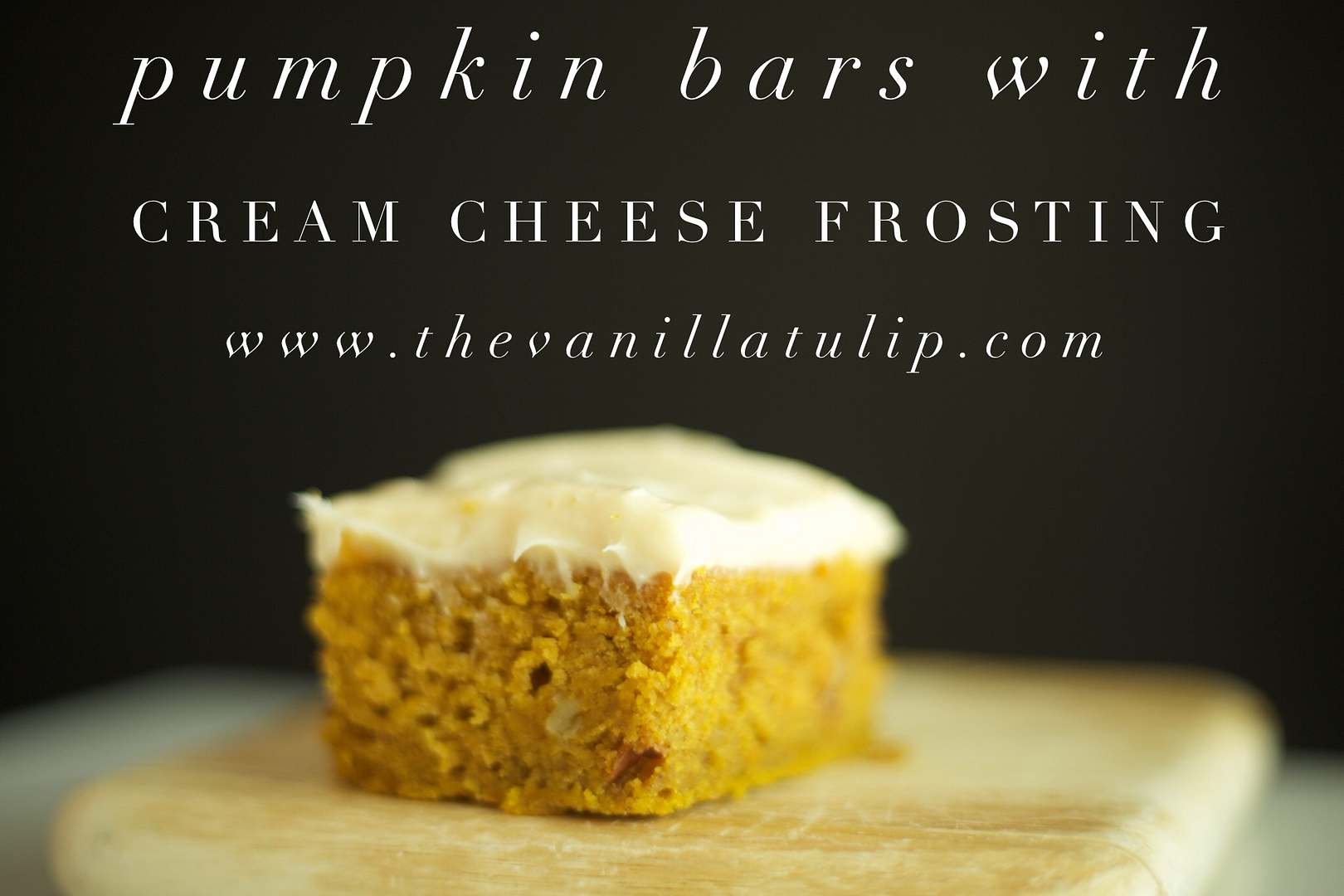 UMPKIN BARS with CREAM CHEESE FROSTING//
Pumpkin Bar Recipe//
1 3/4 cup sugar
4 eggs
1 cup vegetable oil
15-ounce can pumpkin
2 cups flour
2 tsp. baking powder
2 tsp. pumpkin pie spice
1 tsp. salt
1 tsp. baking soda
** 1 cup chopped walnuts: optional but suggested!
Cream Cheese Frosting//
1/2 cup butter, softened
8 ounce package cream cheese, softened
2 cups powdered sugar
2 tsp. vanilla extract
Preheat your oven to 350.
Mix together your eggs, sugar, oil and pumpkin.
Stir together your flour, baking powder, pumpkin pie spice, salt and baking soda.
Add the dry ingredients to the wet ingredients and mix until you have a smooth batter.
If you want to add walnuts you would add them now. They're my favorite part of the bar!
Pour batter into a greased 9×13 pan.
Bake for 30 minutes.
Let the bars cool COMPLETELY before frosting them. Otherwise you'll have a melted mess 🙂
For the icing…
Combine the softened cream cheese and butter in a bowl.
Whip together until smooth.
Then mix in your sugar and vanilla until everything is combined.
Spread over your bars.
Then ENJOY!