Best Ever Oatmeal Chocolate Chip Cookies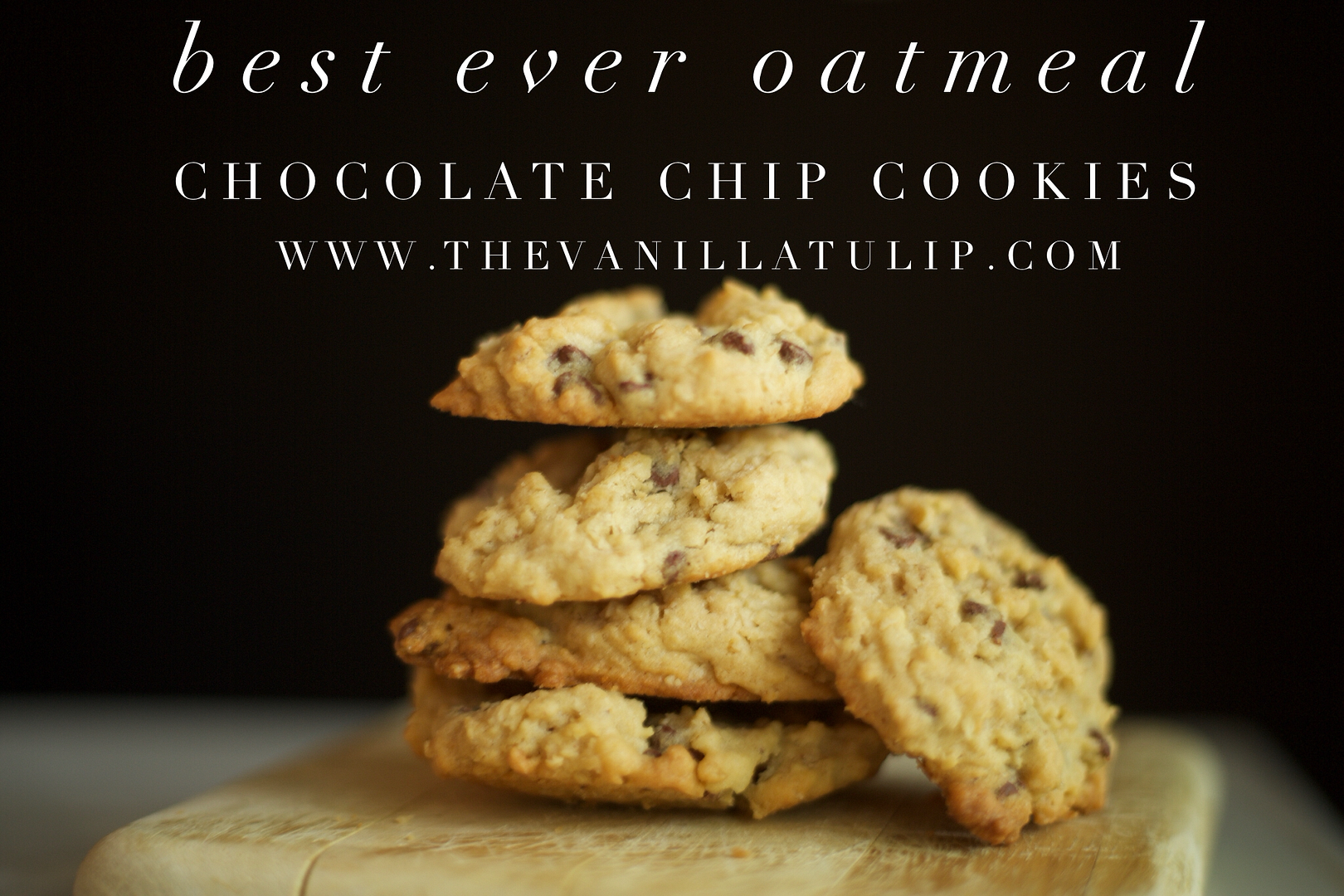 I am a firm believer in everybody having their "thing" that they're famous for cooking/baking.  You know…that recipe that you're known for and that everyone asks you to make.  I've been working with the kids individually trying to find something that they can make their "thing".  So far… Emma has decided to make Peach Cobbler hers.  More on her Peach Cobbler ventures in another post. I think my favorite part about doing this is getting to try different recipes and realizing what you love and don't.
I think it's safe to say, but I do believe Oatmeal Chocolate Cookies are my "thing".  And… if you follow this recipe they can be yours too 😉
I love this recipe because these cookies turn out yummy every. single. time.  They are a touch chewy, the perfect amount of sweet and the perfect amount of salt to balance the sweet.  I found the recipe years and year ago in an old church cookbook that was gifted to me.  That's when you know it's going to be a good recipe.  Church ladies know what's up when it comes to baking and cooking.
At our house these cookies a weekly occurrence.  And they don't last any longer than a day and a half.
Also– just a tip from my kitchen to yours.  Because we bake so frequently, I have a basket set out on my counter with all of my go-to baking ingredients.  It consists of salt, baking powder, vanilla, chocolate chips, measuring cups and measuring spoons.  The basket sits near my flour and sugar. Which in turn sits near my mixer.  Everything is within arms reach for easy baking access. I love that it also out where I can keep an eye on my ingredients.  There's nothing worse than going to bake something and realizing you're out of an important ingredient!
/// BEST EVER OATMEAL CHOCOLATE CHIP COOKIES ///
2 sticks softened butter
1 1/4 cup brown sugar
3/4 cup white sugar
1 1/2 tsp vanilla
1 1/4 tsp salt
1 tsp baking soda
2 eggs
2 cups flour
1 1/2 cups oatmeal
1/2 bag chocolate chips
*Preheat your oven to 350
*Cream your butter and sugars together.
*Add in your vanilla, salt and baking soda.
*Slowly incorporate your eggs
*Add in your flour and oatmeal
*Add in your chocolate chips
*Add your dough balls to a baking sheet.  Bake around 9-10 minutes.  It obviously depends on your oven.  Mine is super fickle and bakes HOT.  Keep an eye on your cookies and don't depend on your timer.  I bake until mine start to brown around the edge and the middles look a tad gooey still.  Take your pan out and set them on the top of your stove for a few minutes.  They will finish baking OUT of the oven.  I do this with every cookie I make! It keeps them from over baking.
Also– sometimes I like to switch out my normal salt for course salt (kosher or sea salt).  I love having those little bits of salt throughout the cookies.  It compliments the sweetness just right!
ENJOY!