A Beginner's Guide to Understanding your Instant Pot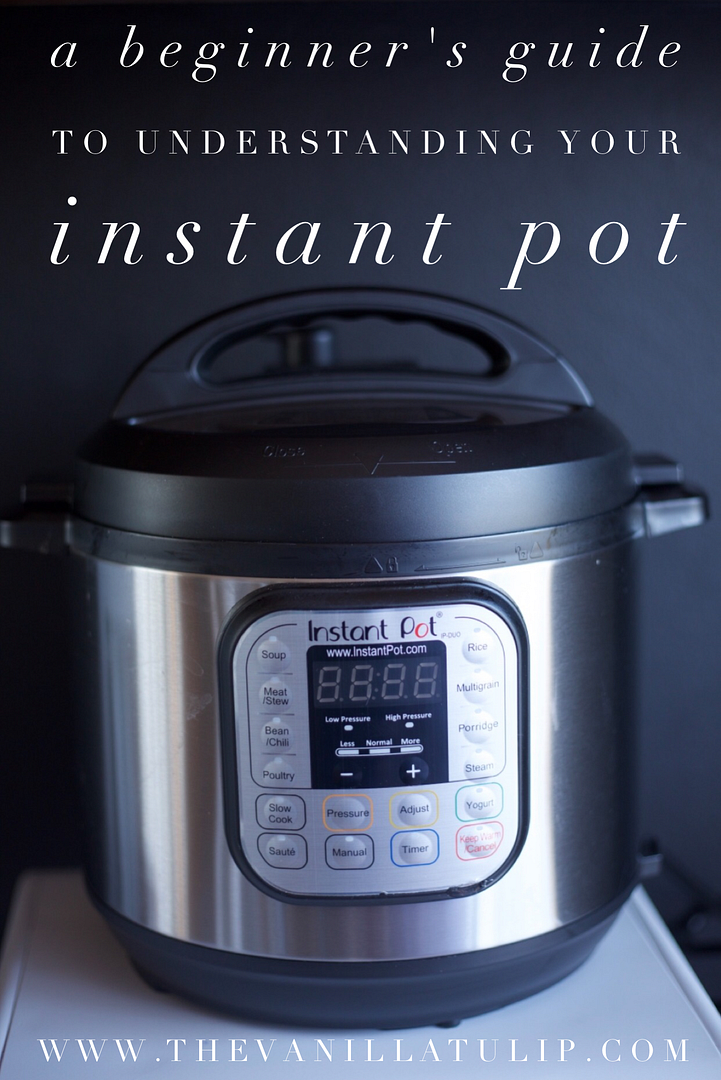 I'm sure by now you've heard of the Instant Pot. But maybe aren't quite sure what it is? Or maybe you have one and aren't sure WHERE to start?!
I purchased one not long ago and felt ALL those feels. As soon as I opened the box and looked at the instruction manual I felt overwhelmed and not quite sure where to start. Once I started using it I fell in LOVE with the food that it was making as well as the ease of prepping the food.
This is the Instant Pot I chose and I would HIGHLY suggest you get the same one! It works well for our family of seven.
Throughout 2017 I'll be posting more Instant Pot recipes as well as posting over at a Facebook group I created called, "A Year of Instant Pot". Head over there and like it to follow along!
Before we get started, I thought I would also post a few facts about what an Instant Pot is/does for those of you who aren't familiar with it.
+Instant Pot is a seven-in-one multi-cooker that works as an electric pressure cooker, slow cooker, rice cooker, yogurt maker, steamer, warmer and saute pan all in one.
+If you can push a button and follow instructions, you can use an Instant Pot!

Now let's get started…
WASH YOUR POT
To clean my Instant Pot right out of the box I put a cup of water in to sterilize it. Put the top on and twist it shut. Push the Manual button and adjust it to 5 minutes. I also found this article super informative on how to clean your Instant Pot after you've been using it awhile. It's pretty in depth so don't let it overwhelm you!
UNDERSTAND COOK TIMES

One of the things that confused me most was that there are THREE different parts of cooking with the Instant Pot. Not JUST the cooking time. So, if something says you're going to cook rice in a minute, just know it's going to take longer than a minute. It can be a bit deceiving! The more liquid in your pot, the longer the Instant Pot will take to get to pressure.
These three times will equal your TOTAL cooking time:
1. The time it takes for the Instant Pot to reach pressure and begin the cooking program
2. The time it takes to cook the food
3. The time it takes to release the pressure from cooking (can be done naturally or quickly)
UNDERSTAND QUICK RELEASE AND NATURAL RELEASE
Because your pot is pressure cooking your food, the steam needs to be let out of your Instant Pot. There are two ways you can do this.
1. Quick Release is when you manually release the pressure in the pot by turning the vent. TIP– don't be a dummy like me and not use an oven mitt when you do this ha! When you Quick Release you are ending the cooking of your food.
2. Natural Release is when you completely turn off the Instant Pot and let the pressure release on it's own. This typically takes 20 minutes or so. When you do the Natural Release you are letting your food cook for a bit longer.

LEARN THE BUTTONS
+ Saute: you can use this feature BEFORE you put the lid on your Instant Pot. For example, sautéing your chicken before you finish cooking it. You're able to adjust
+Keep Warm/Cancel: you'll use this to pause or turn off your Instant Pot.
+ Manual: this is your all purpose button. You use use the plus or minus time to adjust the minutes.
There are also pre-set buttons that you can use. Here is a brief description of each:
+Soup: high pressure 30 minute cook time. Press soup and the Adjust button once (more) to cook for 40 minutes. Press soup and the Adjust button twice (less) to cook for 20.
+Meat/Stew: high pressure 35 minute cook time. Adjusted to more – 45 minute cook time; adjusted to less – 20 minute cook time.
+Bean/Chili: high pressure 30 minute cook time. Adjusted to more – 40 minute cook time; adjusted to less – 25 minute cook time.
+Poultry: high pressure 15 minute cook time. Adjusted to more – 30 minute cook time; adjusted to less – 5 minute cook time.
+Rice: cooks on low pressure and is the only fully automatic program. It's for cooking white rices and will adjust the cooking time depending on the amount of water and rice in the cooking pot.
+Multi-grain: high pressure 40 minute cook time. Adjusted to less – 20 minutes cook time. Adjusted to more – 45 minutes warm water soaking time and 60 minutes pressure cooking time.
+Porridge:high pressure 20 minute cook time. Adjusted to more – 30 minute cook time; adjusted to less 15 – a minute cook time.
+Steam: high pressure 10 minute cook time. Adjusted to more – 15 minute cook time; adjusted to less – 3 minute cook time. Use this function with a rack or steamer basket because it heats at full power continuously while it's coming to pressure and you don't want food in direct contact with the bottom of the pressure cooking pot. Once it reaches pressure, the steam button regulates pressure by cycling on and off similar to the other pressure buttons.
+Slow Cooker: defaults to a 4 hour slow cook time. Use the adjust button to slow cook on low (190-201°F), normal (194-205°F ) or high (199-210°F). Use the "+" and "-" buttons to increase or decrease the cooking time.
+Pressure:switches between low and high pressure.
+Yogurt: used for making yogurt in the pot or in individual jars. We'll be covering this in a few weeks!
+Timer: is for delayed cooking. You need to select a cooking function first, make any adjustments, then press the timer button and adjust with the "+" and "-" buttons.
_________________________________________________________________
Those are the BASICS of what you need to know about your Instant Pot! I'll be sharing more recipes in the next few weeks that my family has been loving! And don't forget to like my Instant Pot Facebook Page to get updates and inspiration!