How to homeschool with little ones around
Last spring I wrote an article for the Home and Haven Homeschool Community and wanted to share it on my personal blog as well. I hope it's an encouragement to you if you're in a season of homeschooling with babies and toddlers around! At the time my youngest (baby 7) was around 5 months old. I was teaching 5 grades (6th, 4th, 2nd, 1st and Pre-K) and also had a 2 year old joining the party!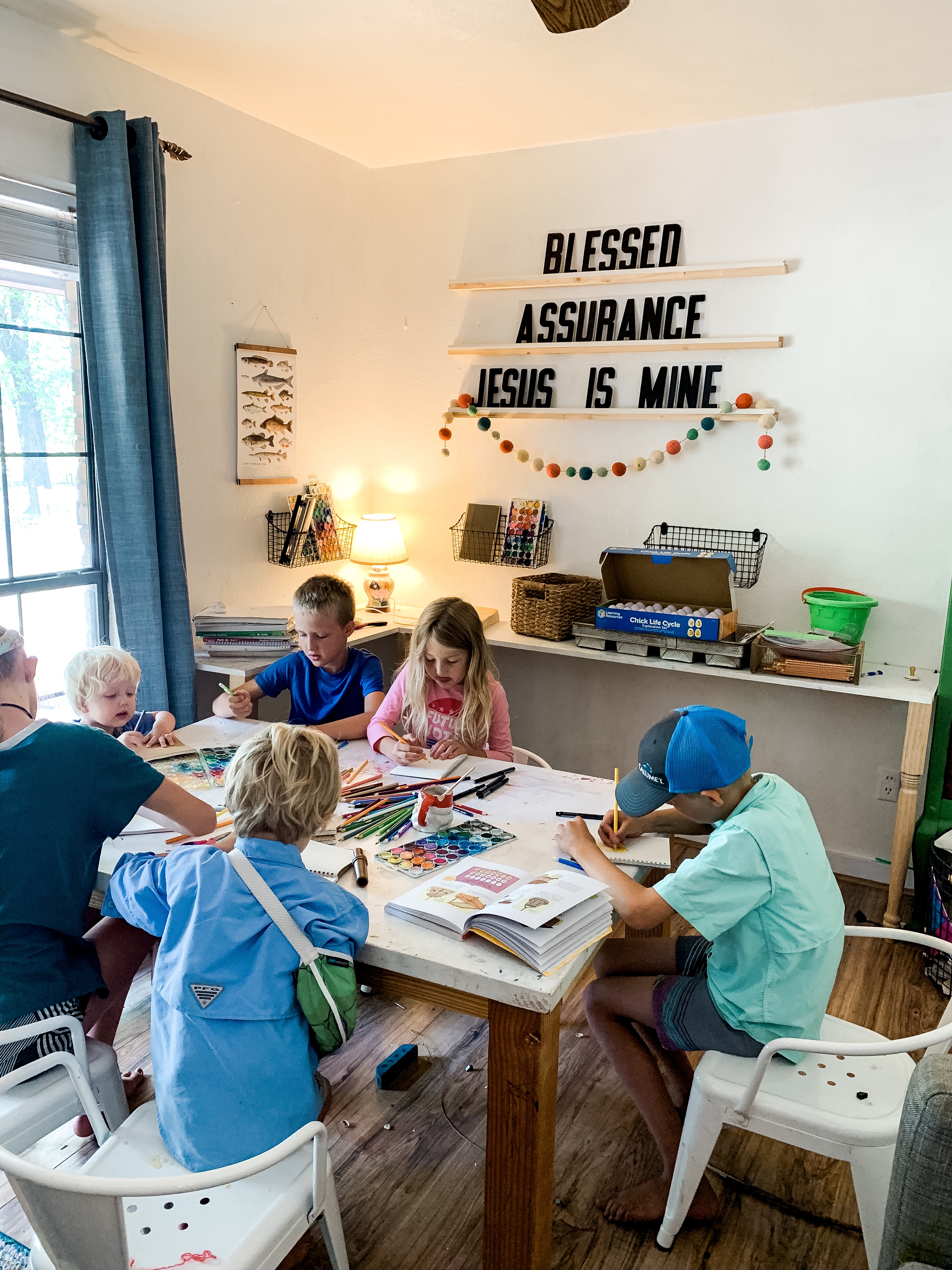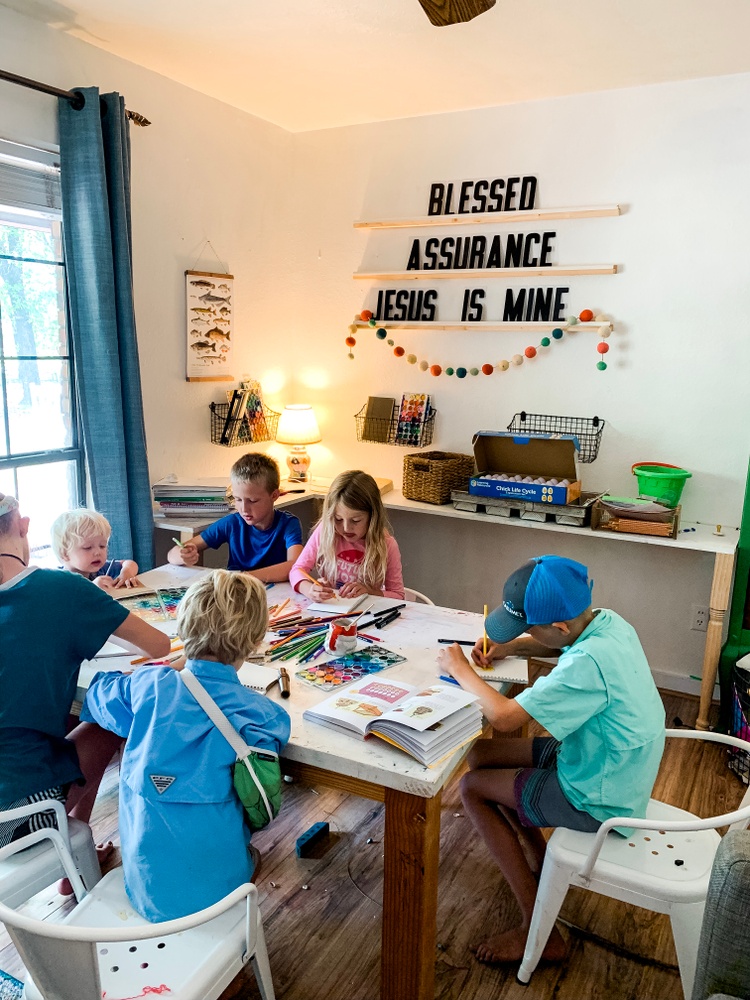 One of the questions I receive the most is, "how do you homeschool with little ones around?".
Sometimes I ask myself that same question haha! It's a loaded one that changes with each season and quite frankly each day. I have learned that when you are homeschooling with little ones around, you learn to hold a true schedule VERY loosely. You learn to pivot and adjust to each new day.
When you're homeschooling with a newborn or a baby… each day is completely different. Having a rough schedule is definitely a good thing. But learning to let that schedule go and be flexible is an even better thing. There are going to be days when the baby is fussy. There are going to be days where you got very little sleep the night before and can't even remember what your name is.Those days will come. But they are just a season and THEY WILL PASS. Give yourself heaps of grace in those seasons and remember that tomorrow is a new day! One of my favorite things about schooling with little ones is that it teaches your older kids (and yourself) that the world does not revolve around them. Your older kids will learn patience. They will learn compassion. They will learn how to be somewhat self-sufficient with lessons. There are so many life lessons that will naturally be learned when you're schooling with little ones around.
The below "Day in the Life" is very rough- but just an outline of a day we had last week (this was written in April of 2020).
————————————————————————————————————-
6:20- My little guy is 3 (almost 4) months old. He is finally in a good sleeping through the night pattern (knock on wood) which means I am feeling more rested! While he was still waking up in the night I was NOT waking up at 6:20 in the morning. But- now that he is… I love getting upbefore everyone else. I love having this tiny bit of time all to myself in the morning. I'll read my Bible, journal and take time to drink my cup of coffee. I have found that I am a better mama and more patient with my little ones when I have just the tiniest bit of time alone in the morning. Does it always happen? Nope. On this particular day (photo below), my little buddy woke up when I did. Regardless of whether you have little ones in the home, my biggest encouragement to any parent (homeschooling or not) is to open your Bible and spend some time reading. Even if it's just for a few minutes. Let His Word be what sustains you through the day. Homeschooling is HARD. Parenting is HARD. Christ didn't create us to do it on our own. That might even look like opening your Bible on the kitchen counter and reading a few verses while you're making breakfast. He will give you exactly what you need for your day. He is faithful!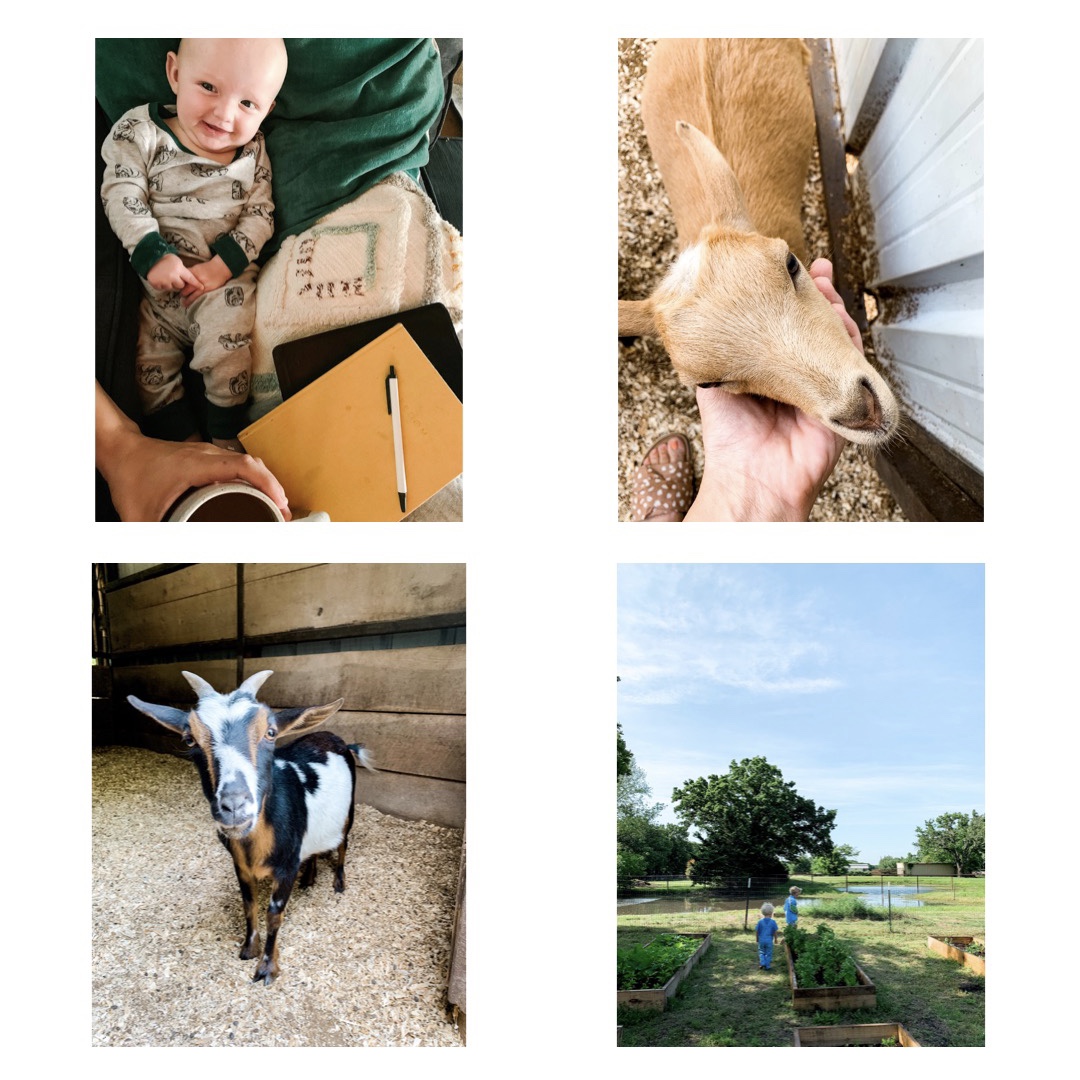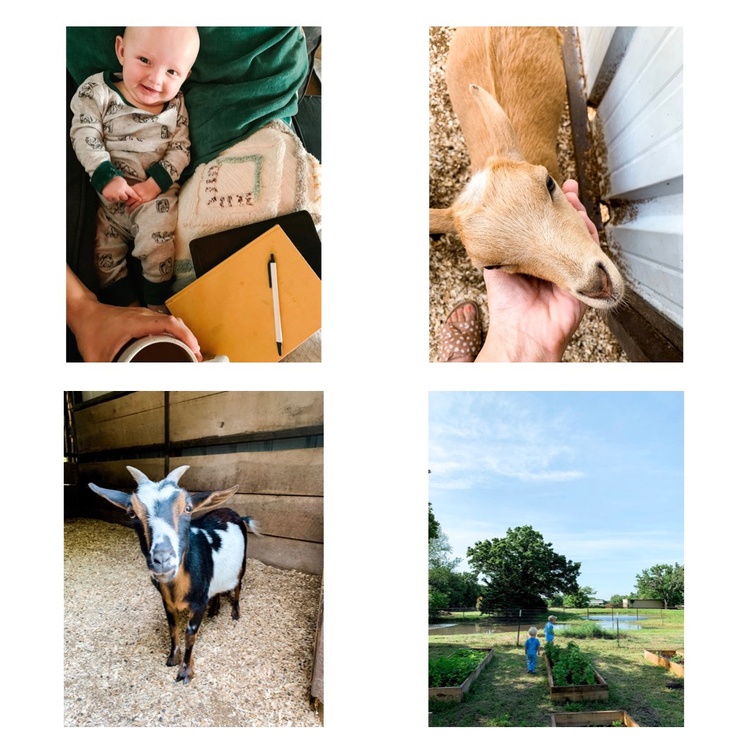 7:30- Around this time everyone starts to roll out of bed. We rarely wake our kids up. One of our favorite parts of homeschooling is letting our kids get the adequate amount of sleep their little bodies need.
8:00- We usually have our breakfast around this time. I'll typically make a hot breakfast (this is just something I love to do! I know it's not for everyone). Pancakes, oatmeal, scrambled eggs, muffins, etc. While I am making their breakfast the kids will start to get dressed for their day and make beds. The toddler will go and play in our school room (which also serves as a play room) while the baby is typically being worn in my favorite carrier (I linked it at the bottom of this post).
8:45- After breakfast the big 5 kids all disperse to go do their morning chores. They each have a set of inside chores as well as animals to care for outside. We have goats, quail, chickens, a pig, dog and cats. During this time I'll quickly wash up the breakfast dishes and head outside with the little two boys. I LOVE walking down to my garden every morning to water it! The baby will be wrapped up on me in the sling (find a baby carrier that you love!) and the two year old will be my watering "helper". I forgot to mention- I always start a load of laundry as soon as I wake up. My goal is to "try" to get 3 loads washed every day. There are days where they get washed, but sometimes not folded until the next day. And that's okay! Life goes on and if the kids need to dig for a pair of undies… they'll survive haha!
9:15- One of the routines that stays consistent whether we have newborns or not is our morning Bible time. We meet in the living room every single morning. I'll sit on the couch and the kids will gather on the floor or next to me. It's my favorite part of our day and one I hope they remember fondly as well. We spend time memorizing Scripture (we're currently working on Psalm 139), reading through the "Jesus Storybook Bible" and memorizing the Books of the Bible.
After our Bible time we'll spend a few minutes reading a few pages out of whatever chapter book we are currently reading. We just finished up "The Indian in the Cupboard" and the kids loved it!
A few days a week we'll also read a bit from our History (We use the Good and the Beautiful) as well as a few pages from our "The Good and the Beautiful" Science. They have AMAZING Unit Studies that I highly recommend!
If you're finding yourself homeschooling with a newborn- this morning gathering time has always been my favorite. The first few weeks with a newborn, this is pretty much the only school we tackle. Curl up with your little one and just read out-loud. It's some of my favorite memories and ones I hope my bigger kids remember.
As for toddlers during this morning gathering time- they're going to be crazy at times (or all the time ha!). But eventually they'll learn right alongside the big kids! I am always amazed how much toddlers soak up during the memorization time. They are sponges! Make sure they have a few little toys they can play with while you're gathered together (I've shared a few of my favorites at the bottom of this post).
9:45- We jump right into our subjects! The big 2 kids will head to their rooms to practice their instruments first (they play the violin and guitar). During this time I'll typically do the following:
+ Either lay the baby down for a nap OR wear him in the carrier
+ Quickly switch the laundry while the other kids pull out their school books
+ Make sure the 2 year old is set up with some toys. One of my biggest tips is to have special toys that you pull out JUST for school time. It will keep those little ones entertained longer!
+ I'll work with my 1st and 2nd grader during this section of time. My older two will finish their music practice and move on to subjects they can do independently.
+ Grab a snack to pass out to everyone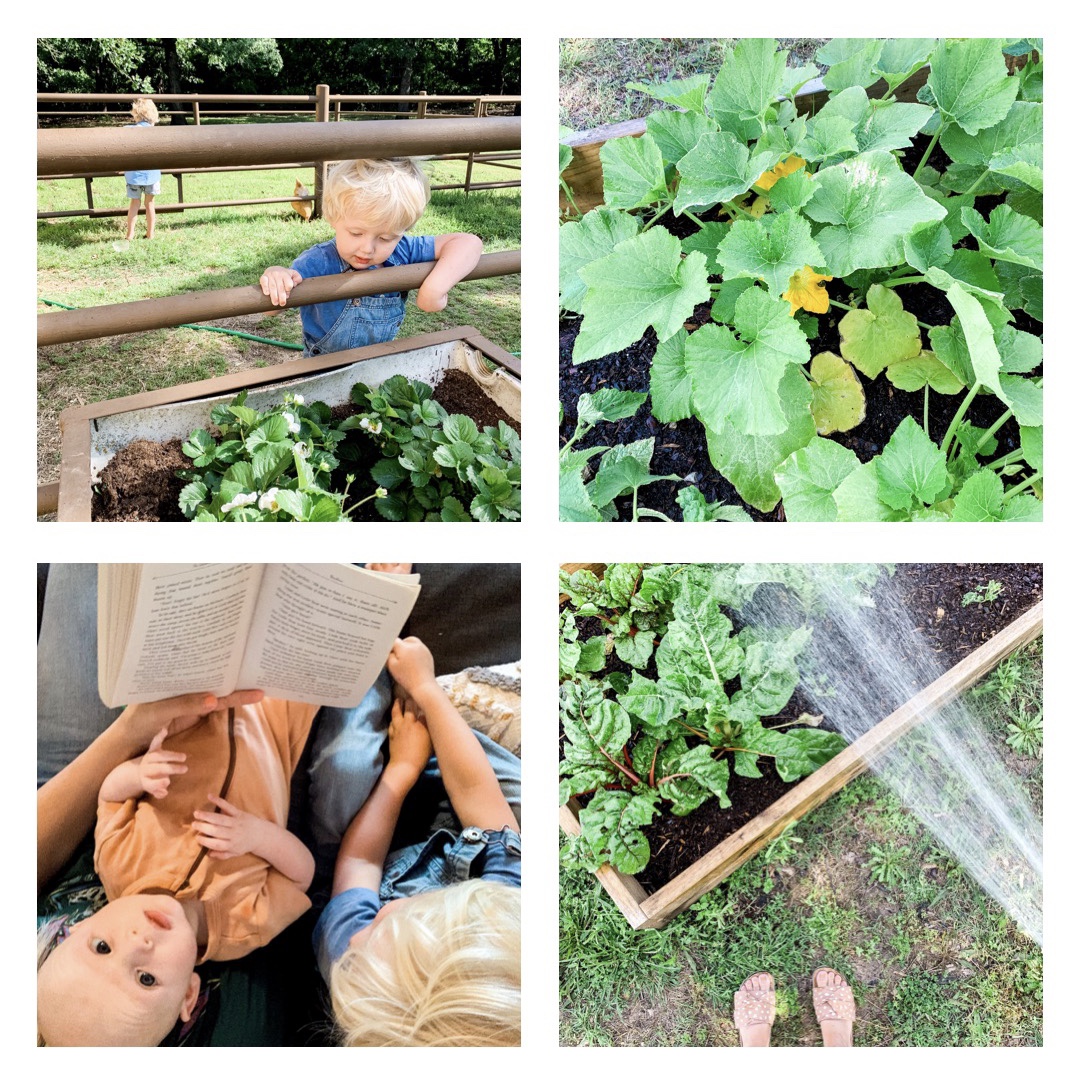 Now this particular day that I took photos, we were gathered around the table studying chicks and hatching eggs! We have chickens and have recently purchased an incubator to hatch some of their eggs. If you want to follow along with the hatch, I have everything saved in the highlights of my Instagram (@thevanillatulip). One of my FAVORITE parts about homeschooling is the freedom you have to study what your kids are interested in!
As you can see in the picture above, my two year old is joining right alongside his older siblings. I purchased each child a little notebook to write as we documented the egg change each day. I made sure to provide him with his own little notebook so that he could be a part of the group! Don't ever feel like you can't include your toddlers in the fun. They will LOVE getting to be a part!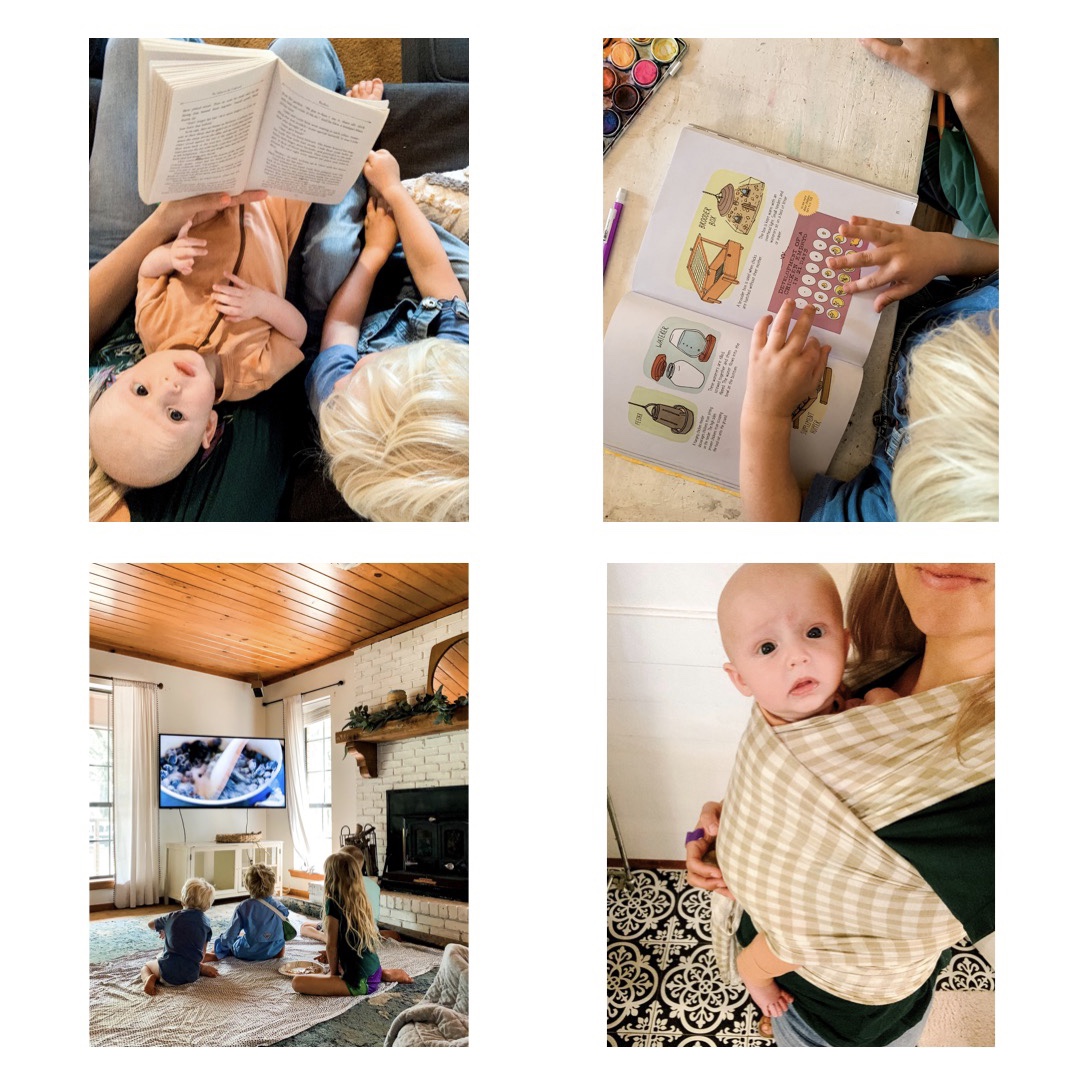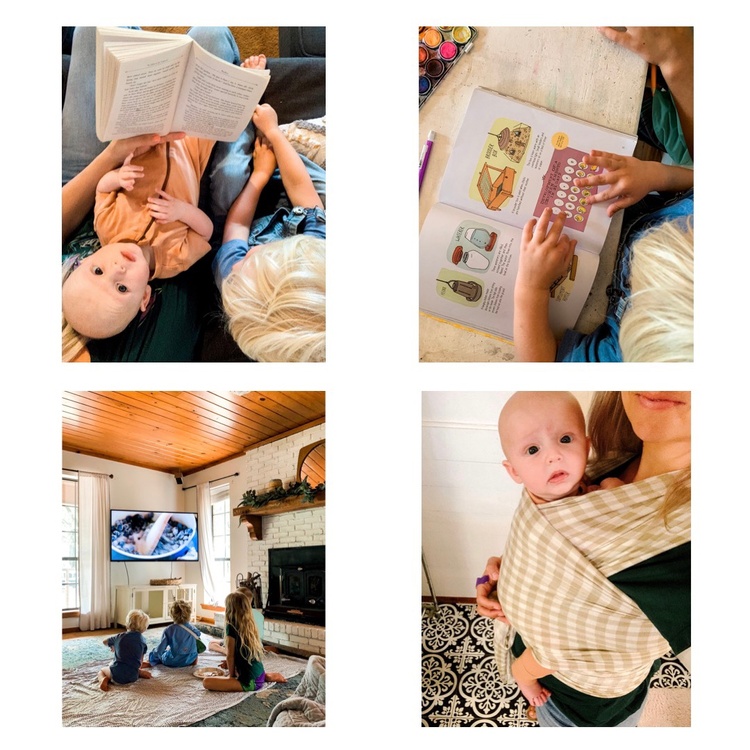 12- We'll typically break for lunch at noon. About once a week we'll bring our lunch into the living room and watch "The Pioneer Woman" while we eat. It's such a fun mid-day treat!
12:30- The younger kids will head outside to play and I'll sit down to work with the older 2 kids (6th and 4th). We'll go over anything that they needed help with, I'll correct their lessons and also help them with their dictation work.
1:30- School is pretty much wrapped up by this time. I'll send the big kids outside to play and sit down to read a book with my two year old. I love having this little routine with JUST him. We read a book or two before he lays down for his nap.
Once I have the baby and toddler laid down for their naps, I'll typically do the following:
+ Make a cup of coffee or tea for myself
+ Switch the laundry
+ Sit down with my computer to work on Home+Haven content/products. I have always loved working and being creative. This little hour in the afternoon is a non-negotiable for the most part. My kids know that this is mama's time to work. During afternoon quiet time my older kids will either play outside, read quietly or play something quietly.
3:00- I will switch the laundry one last time and the kids will be allowed to watch a show on the tv and have their afternoon snack.
3:30- We all do an afternoon clean up blitz for about 30 minutes to an hour (depending on how messy the house was from our day). We have a little cleaning routine that we call "What Next" that works really well. The kids don't necessarily LOVE it haha! But it gets the job done!
They will all be assigned a task. When they have completed the task they'll race back to me and say "what next". We will work diligently until the house is picked back up and ready for my husband to get home from work!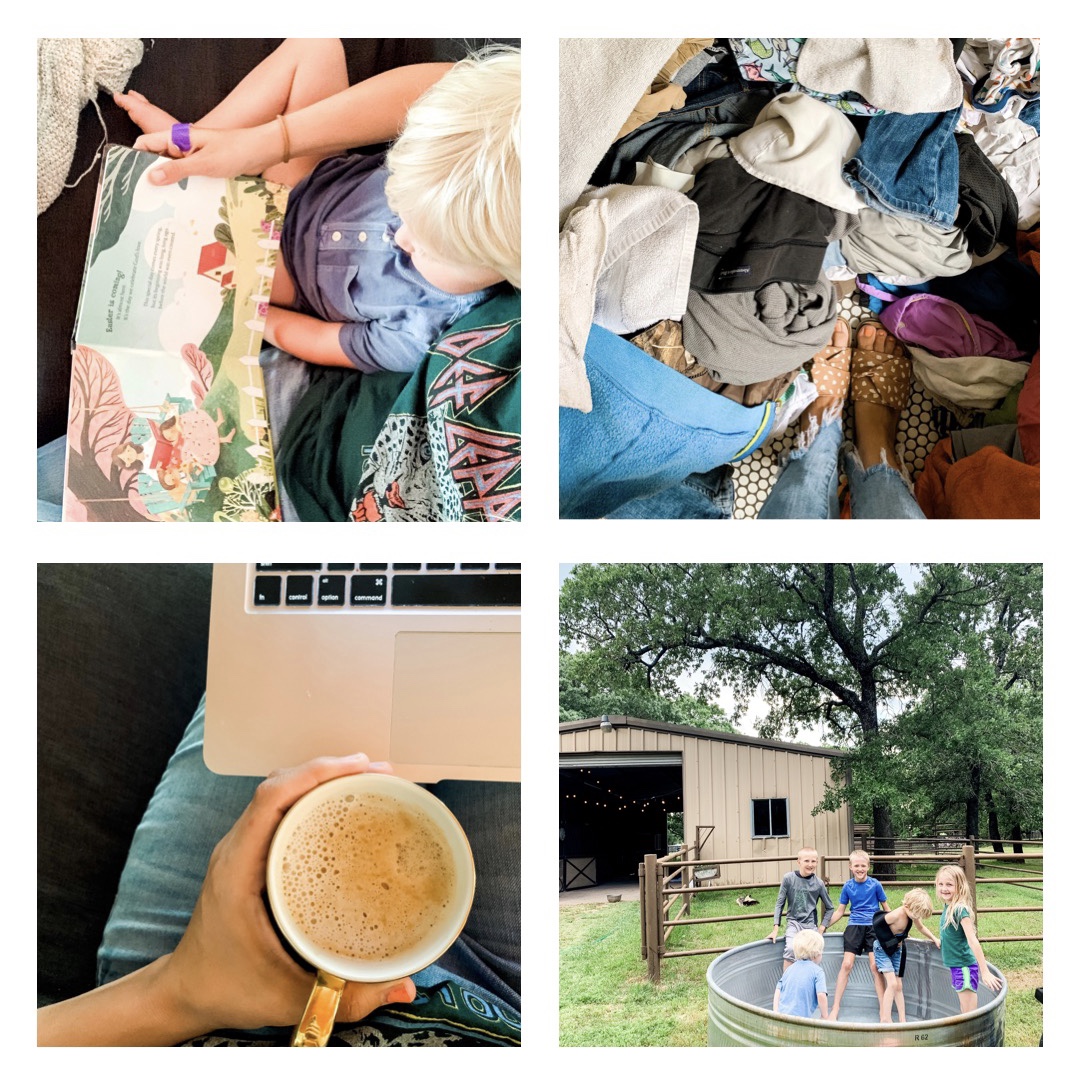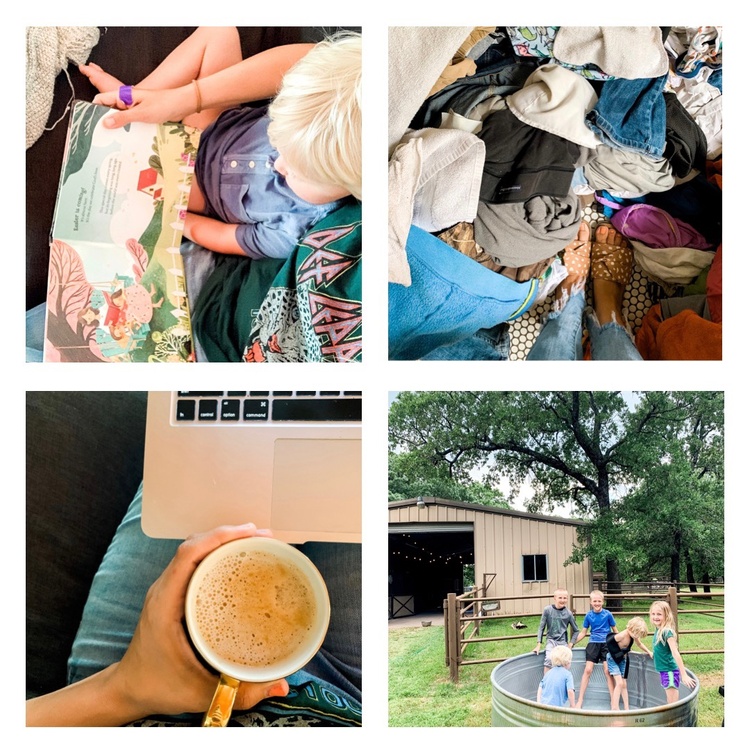 4:30- The kids will go back outside to play (we play outside a LOT!). During this time I'll sling the baby back on and get dinner started. This particular day we were waiting on the delivery truck to arrive from our local feed store. We purchased a big Feed Trough for the kid's to use as a little swimming pool this summer!
6:00- We ate a quick dinner inside and then headed back out to enjoy the rest of the evening. Once it became dark we headed back inside for baths and then ALL 7 of the kids were in bed by 8:30! My older kids go to bed the same time as the younger kids. Each one of my older kids has a special light next to their bed and they're allowed to read until 9:30 or 10:00.
9:00- On this particular night my husband and I snuck down to the barn together to check on our new little quail. The older two boys have been wanting to get into the quail business (breeding them to sell the eggs and grown birds for hunting), so they recently purchased 200 quail!
One of my biggest tips for homeschooling (whether you have toddlers/babies at the moment or not) is to DATE YOUR SPOUSE. This doesn't mean you have to leave your house. But be intentional about taking a little time out of each day to spend with one another. That might look like sitting on the front porch together, a movie on the couch after kids are in bed, making a special treat to enjoy together after the kids are in bed or even having your kids play nearby while you sit together and visit.
Our kids know that whenever the two of us are together talking, that we are "on a date". They'll typically be told to go play somewhere else for awhile so that we can visit. It's GOOD for your children to learn that they aren't the #1 priority in the home. Your marriage and that friendship comes first. Make sure you're investing in each other!
10:30- I try to be in bed most nights by 10:30. I am a mix of a night owl and an early bird- kind of a bad combo haha! But I just love the peace and quiet those hours bring. It's my time to get extra work done or to journal.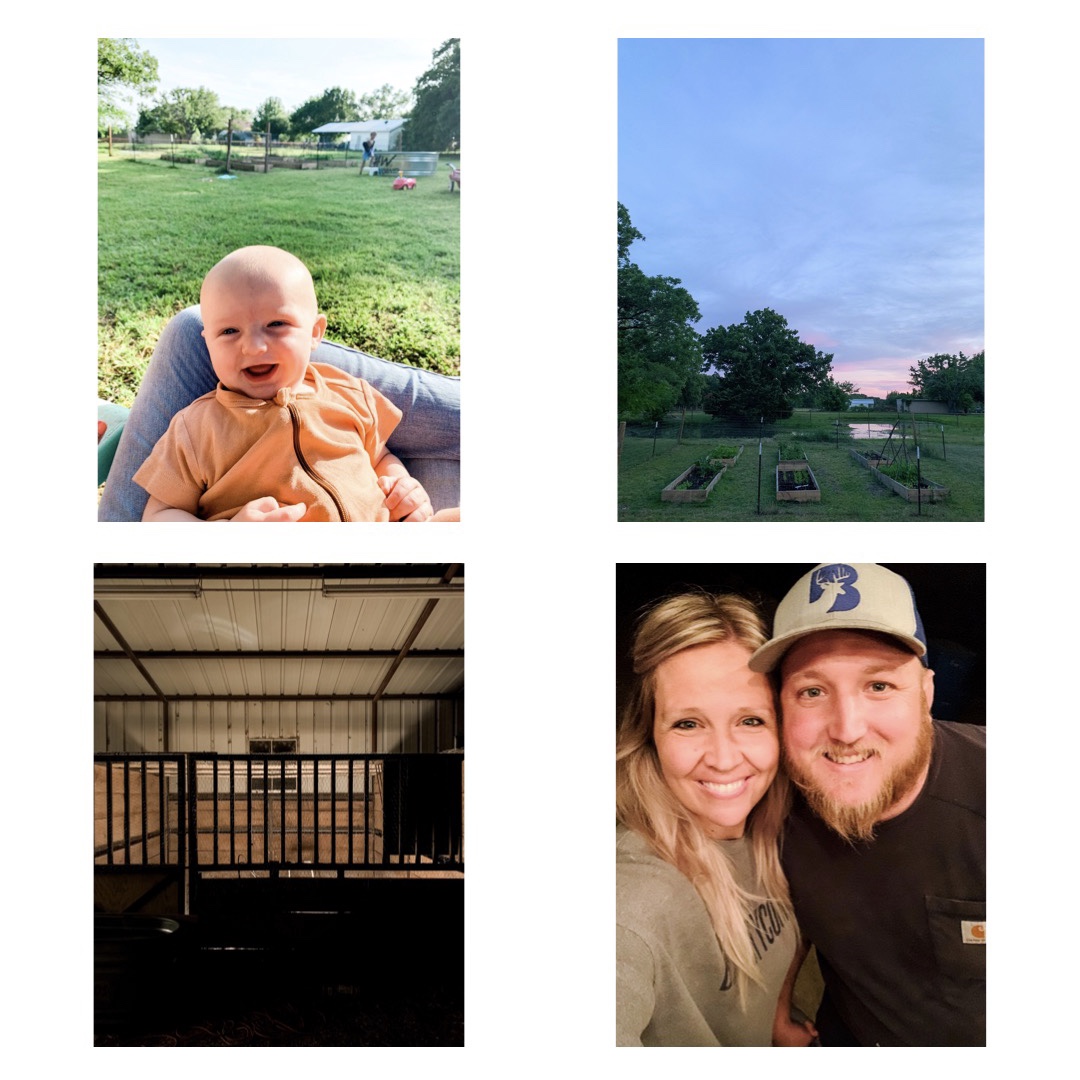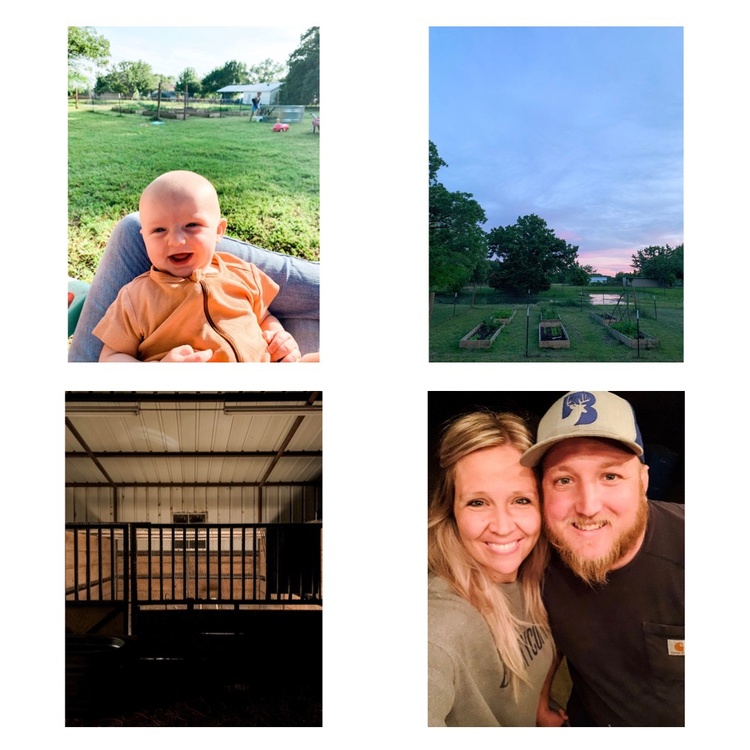 That was a REALLY long "Day in the Life" outline- but I hope it gives you a little insight as to what life looks like over here! If you ever have any questions about our routine or curriculum, please don't hesitate to ask! I am cheering you on in the homeschooling journey!
---
FAVORITE BABY SLING//
Solly Baby- this has hands down became my favorite baby carrier! The first 6 kids I would use a sling (Wildbird was my fav brand). I was always intimidated by the wraps. But with baby 7, I thought I would give it another go. And now I'm kicking myself for not having used the Solly Baby sooner! The first few times you use it there's a bit of a learning curve. Figuring out how tight to wrap it, how to position the baby, etc. But once you get the hang of it, you'll be HOOKED. I love that it keeps the baby secure against you. It has allowed me to use both hands to help kiddos with school, switch laundry, make meals, etc. HIGHLY recommend.
FAVORITE TOYS TO KEEP TODDLERS BUSY//
One of my biggest tips for toddlers is to have a stash of toys that you JUST pull out for school time. This will keep the their entertainment a bit longer than if they had been sitting out the whole time. My top two toddler toys are:
+ Magna Tiles: ALL of my kids love these and play with them!
+ Wooden Blocks: We have added to our wooden block collection over the years and they're still a go to toy to play with!
ADDITIONAL LINKS//
I have written a blog post about our curriculum that you can read HERE.
And HERE is a blog post that talks about our Chore Charts that help us stay on task.